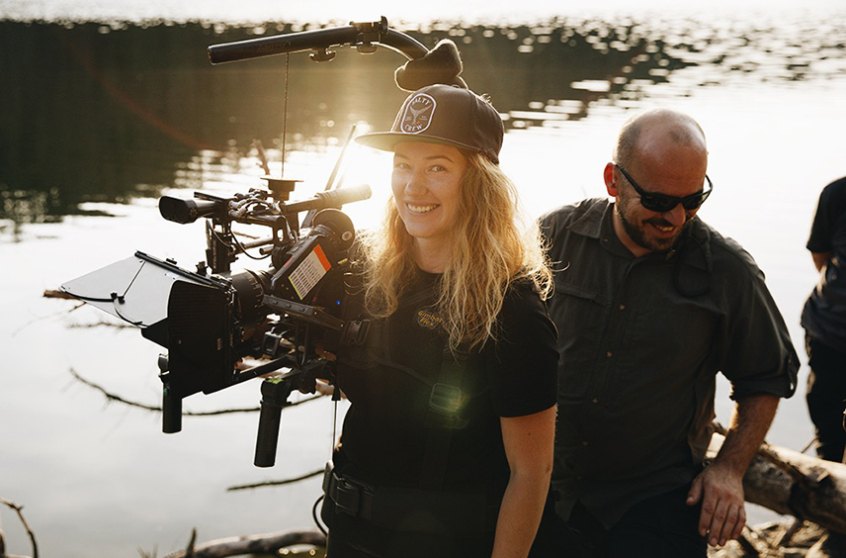 Aleksandra Medianikova is a german cinematographer, based in Berlin. Aleksandra studied cinematography at the Film University Konrad Wolf (Bachelor and Master studies). Her graduation film «Rå» won German Short Film Award LOLA, Studio Hamburg Young Talent Award and was nominated for the Michael Ballhaus Award at FIRST STEPS. With the long documentary film «BEYOUND THE WHITE» Aleksandra was nominated for the German Cinematography Award.
Aleksandra works as well for cinema («MILK TEETH» Wyedemann Bros / Switzerland — Germany Co-Production, «ABOUT A BIRD» Kurhaus Production / Germany) as for television worldwide (BBC «FROZEN PLANET II /UK, ZDF «SOKO Köln"/Germany).
Aleksandra is a member of German Society of Cinematographers BVK and also member of CINEMATOGRAPHINNEN — Women Cinematographers Network.
AWARDS:
BEYOND THE WHITE
• Nomination for GERMAN CINEMATOGRAPHY AWARD, Germany, 2022
• «Special Mention» ART DOC FEST, Riga, Latvia, 2022
Rå
• Nomination for MICHAELL BALLHAUS PREIS, First Steps Awards, Germany, 2018
• «BEST SHORT FICTION FILM», Deutscher Kurzflmpreis, Germany, 2018
• «BEST SHORT FILM», Studio Hamburg Nachwuchspreis, Germany, 2018
• «BEST SHORT FILM», Sehsuchte Film Festival, Germany, 2018
• «BEST SHORT FILM», «AUDIENCE AWARD», Wendland Shorts Kurzflmfestival, Germany, 2018
• «Silver for BEST CINEMATOGRAPHY"BEST ACTRESS», «BEST DIRECTOR», «Silver for BEST FILM», Mittellang.com, Germany, 2019
Brüche
•"Best Short Film" Los Angeles Crime and Horror Film Festival, USA, 2021
•"BEST GENRE FILM", Sehsücht Film Festival, Germany, 2020
•"BEST HORROR", Voghera Film Festival, Italy, 2021
My home video
• «Production Grant», GoEast Filmfestival, Germany, 2017
• «Silver Castle», OFF CINEMA Film Festival, Poland, 2018
• «INTER GENERATIONS Award», Filmreif!, Bundesfestival junger Film, Germany, 2019
• «CONQUER THE FILM Award», Munzenberg Forum Berlin, Germany, 2019
Day after day
• «BEST SHORT DOCUMENTARY» DOKer Moscow International Documentary Film Festival, Russia, 2017
Chud
• «BEST CHILDREN ACTOR», SWET MIRU International Festival, Russia, 2016
• «Prise ROSKINO», SAINT ANNA Moscow, Russia, 2012
• «BEST FILM» in Russian competition of short films, INTERNATIONAL FESTIVAL OF FILMS FOR CHILDREN AND YOUTH, Russia, 2016
• This film presented Russia at 65th Festival de Cannes as part of «Global Russians», France, 2012
Privacy
• Short film corner, CANNES FILM FESTIVAL, France, 2016
• Opening film, INTERNATIONAL SHORT FILM WEEK, Germany, 2016
• Opening film, DOK. fest Munich, Germany, 2016
EDUCATION:
2017−2019 Master of Fine Arts in Cinematography, the Film University Babelsberg Konrad Wolf, Germany
2014−2017 Bachelor of Fine Arts in Cinematography, the Film University Babelsberg Konrad Wolf, Germany